Project Bundling Made Easy
Until now, DOT project bundling has been slow and labor-intensive, with an uncertain result. Using Artificial Intelligence and Machine Learning, FORO DOT streamlines this process with a far better result.
"The FORO bundling application was huge for INDOT. It was easy-to-use, making us more efficient, and produced bundles that we never could have imagined. You should really talk to these guys."
Louis Feagans,
INDOT Managing Director Of Asset Management
FORO's Project Bundling platform uses AI and Machine Learning to provide departments of transportation a more efficient and streamlined bundling process that saves time and money.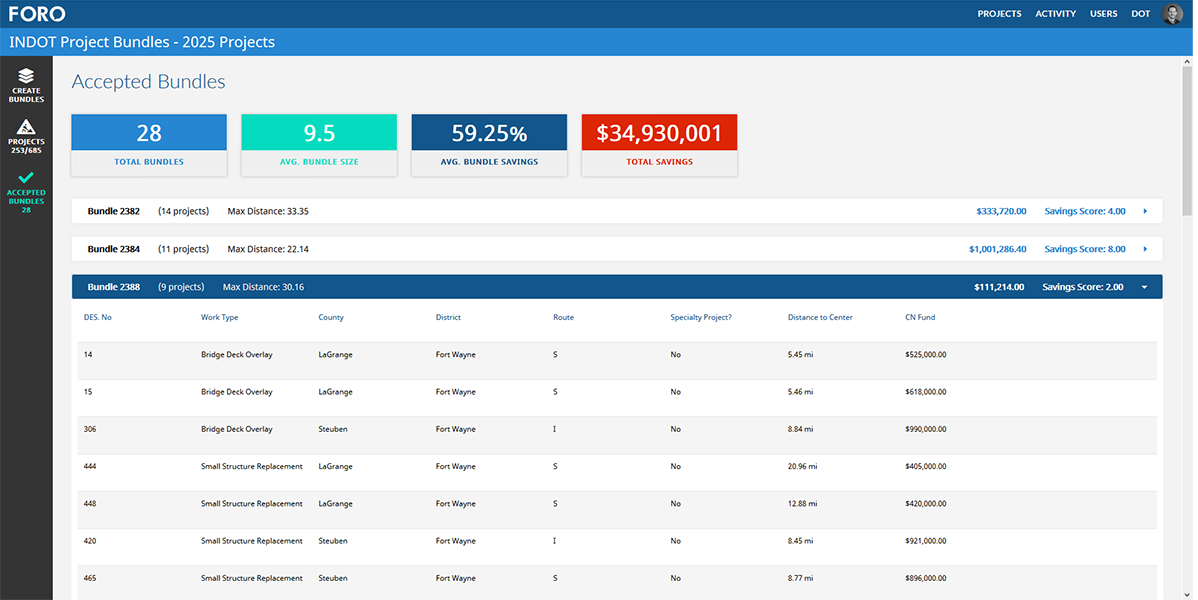 Machine Learning that works with you
Our Solution Can Help Any DOT
Creating project bundles manually would typically take a team of engineers and administrators weeks to complete. Using Artificial Intelligence paired with a sophisticated Machine Learning algorithm, FORO DOT generates bundles from your project data in minutes, with the entire bundling process completed in just days.
No algorithm can know everything about all projects, and FORO DOT gives you complete control of your bundles. Projects can be added to, or removed from, bundles manually as local factors dictate. You are in complete control of your final bundles.
You don't need to be a data scientist to use FORO DOT. Our clean, clear interface and workflows makes it easy to adjust parameters for radius, corridors, and other factors to easily build high-scoring bundles. Map visualizations for each bundle shows where each project is, and our bundling tools make it easy to move projects to other bundles as needed.
In real-world application, FORO DOT provides a 40% better result than manual bundling. Indiana DOT saved almost $108 million more with FORO DOT than their manual process!
Easily Connect to Your Data
FORO DOT has data connectors to allow you to easily import your project data from popular project management platforms, or your own system.
Interested in Learning More?